Newsletter "Rund um Horst"
Twice a month we inform about the manifestations. Subscribe yourself to the newsletter here.
Join the protest!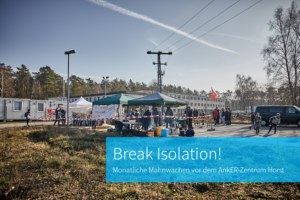 We are a group of people from different cities in the area of Nostorf- Horst who want to show solidarity with all asylum seekers. We see ourselves as anti-racist and stand for the consistent equality of all people.
Once per month we organize a manifestation in front of the initial reception centre in Nostorf-Horst in order to break isolation.
There we offer information about the asylum process, cooking on site, games for the children, donated clothes and coffee, tea & cake.
We demand that camp Horst should be closed!
We welcome every person who currently has to live in Horst. We welcome people of all ages, genders, languages and nationalities.
We are looking forward to meeting you!
Join the monthly manifestations in Nostorf-Horst! All dates for 2020 can be found here.
January 26, February 23, March 29
April 26, May 24, June 28
July 26, August 30, September 27
October 25, November 29, December 13
We come from 2-5 p.m.

#BreakIsolation! #OvercomeBorders!
#Solidarity #Equality #Unity

What we do in Nostorf-Horst
Pro Bleiberecht is collecting information about the problems in Horst. Mostly we bring the issues to the public, i.e. by writing about the situation.
Besides that we are interested to talk to human rights activists and comrades, who we meet in Horst to get in touch and to work together.
General information about Nostorf-Horst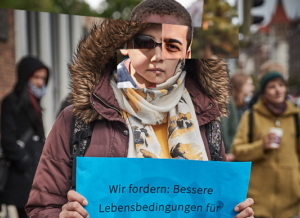 Nostorf / Horst is one of two "initial reception points" (Erstaufnahmestellen) in Mecklenburg-Western Pomerania. Located on the B5 just before Schleswig-Holstein, the camp still refers to the racist riots in Rostock-Lichtenhagen in August 1992.
You can find an overview of our positions in contrast to official statements by the responsible authorities here.

History of Horst
Because the right-wing mob was listened to in 1992, the state government moved the initial reception - and with it the refugees, their stories and their concerns - to the state's borders. Once thought of as an 'emergency solution', the camp in Nostorf-Horst has now existed for over 25 years as a silent and little-seen memorial in the middle of the forest.
Facilities of this type are generally called collective accommodations and are characterized by the fact that the residents have to share rooms (sometimes with up to 8 or 10 people), there are no private toilets or showers, there are no cooking facilities, there are hardly any retreat rooms and that Residents are exposed 24/7 to the control and surveillance by employees. The camp in Nostorf / Horst has space for several hundred asylum seekers.
In the past two years, the placement time there has continued to increase - as has the number of deportations. Where asylum seekers only had to stay in the camp for a few weeks before 2015, it is now often many months to one or more years. People from so-called "safe countries of origin" (Sichere Herkunftsländer") in particular feel the full harshness of foreclosure policies: even in precarious situations, they are not distributed to the municipalities. Unfortunately, this means far too often for children that they have no access to school for months.

"Anchors" and exclusion
Another word has been on everyone's lips since the beginning of 2018: AnkER center (meaning "anchor", standing for: arrival, decision, return). According to the coalition agreement between the CDU / CSU and the SPD, asylum procedures should be processed "faster" and "more efficiently". The integration media service explains: "The official aim of the anchor centers is to make the asylum procedure" more efficient ". For this purpose, all authorities involved in the asylum procedure should be represented in the facilities. These include the Federal Office for Migration and Refugees (BAMF) , the Federal Employment Agency, the Immigration Service, the Social Security Office and administrative courts. The first integration measures are also to be carried out in the anchor centers. "
The "independent and comprehensive advice on asylum procedures", which is also mentioned in the coalition agreement, is carried out by the BAMF itself. Since it is in the nature of things that the authority cannot of course provide independent advice, this process is clearly criticized by civil society actors and charities. One thing is certain: "A clearly recognizable personnel, institutional and spatial separation of the independent asylum procedure advice from official bodies is required."
To ensure this also in Nostorf-Horst, the Flüchtlingsrat Hamburg tried to enforce its access to the camp with a lawsuit before the administrative court in Schwerin - an urgently needed democratic impulse, which failed with the judgment in May 2019.
There are officially nine AnkER centers in Germany; seven in Bavaria and one each in Saarland and Saxony. But here, too, appearances are deceptive: Upon request, the media service Integration informed several federal states that the facilities operated there - titled as arrival centers - already perform the same functions as AnkER centers. A renaming has not been necessary since. Lorenz Caffier (Minister for Interrior Affairs in MV) and Horst Seehofer (Minister for Interrior Affairs in Germany) thought similarly at their meeting in April 2019: "Mecklenburg-Western Pomerania adopts the concept of the so-called 'anchor centers'". However, a renaming is not planned here either.
This lack of transparency is also aimed specifically at supporters and critics who cannot be sure which structures they are dealing with within the walls and fences. The fact is: whether anchor, arrival center or collective accommodation - these practices are not "faster" and "more efficient" asylum procedures. They are repressive and restrictive. They take place every day in silence. We cannot accept them silently!