Exhibition "Asyl ist Menschenrecht"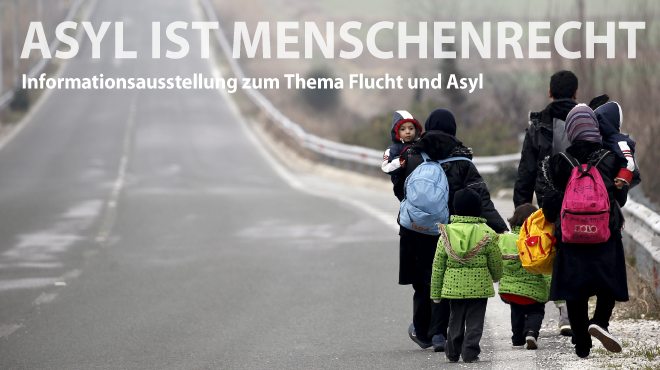 PRO BLEIBERECHT and BDP MV offer the exhibition "Asyl ist Menschenrecht" ("Asylum is a human right") by the NGO PRO ASYL. On  37 tables it shows parts of the ways refugees go, information on global migrations and sets up political claims for just global asylum politics. Organize the exhibition for your city/ town/ village.
PRO BLEIBERECHT brings the exhibition and can give an introduction in the opening event.
Payment for Workshops, lectures, exhibition
Payment for everything PRO BLEIBERECHT offers depends on the financial possibilities of the organisors.
We take money from big organisation, who have some, but not from volunteer groups or Refugees, who call us. PRO BLEIBERECHT will be happy about every donation, that you can provide. All money will be used for more projects and ideas of those people and groups, who can't afford it.